by Levi Cain
Over the last year I have had multiple opportunities to fish the various geographical regions of North Carolina from the coastal Tidewater region of Holden Beach, to the Tar River, Cape Fear River and Rhodes Pond in the Inner Coastal Plain. I've even fished the Lower Little River along with a few feeder creeks in the Sandhills. But it wasn't until early to mid April that I was finally able to fish the Appalachian Mountains of western North Carolina, Tennessee and northern Georgia. Although I must admit I have fished the Conasauga River in northern Georgia once before.
When fishing the Atlantic near Holden Beach, I targeted the salt marshes, focusing on the vegetation as the tide was rising. My rod of choice was a 13′ crappie rod with about 9′ of 10 lb mono and 2-3′ of 8x tippet. There was a slight wind present so I used a size 6 micro shot, attached about 4" above a Tanago hook baited with a small chunk of worm. I tried to focus most of my attention along the edges of the grass or small gaps in vegetation with sandy bottoms that were no more than 3′ deep. The area was teeming with one particular species. And nearly every cast was a fish-on.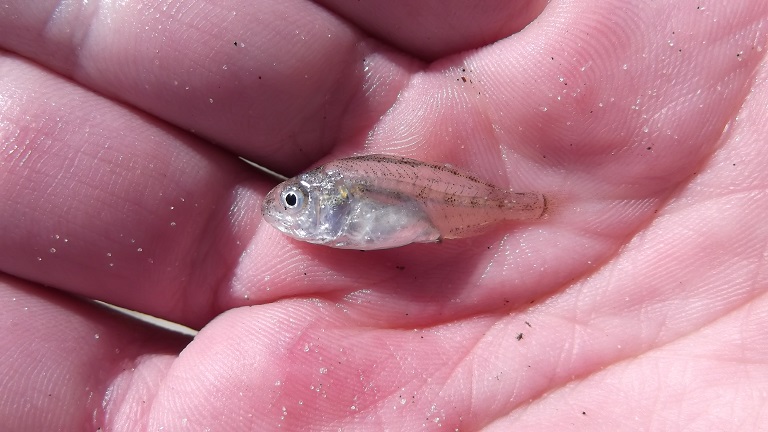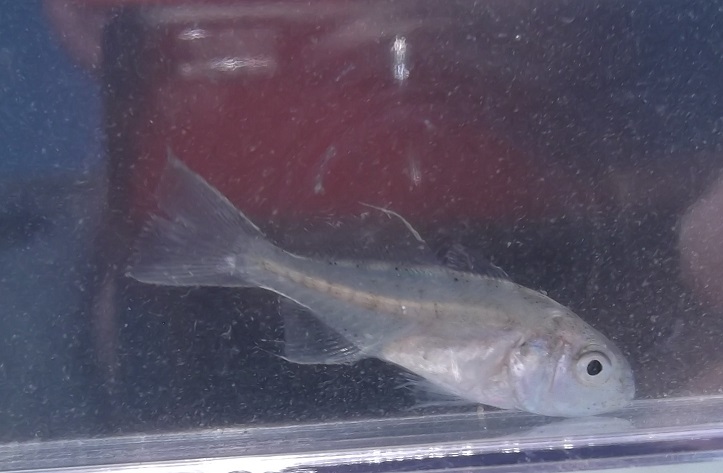 After about an hour of catching the same little fish over and over again, I began to walk the shore looking for various types of structure. Luckily not far from where I had been fishing there was a small drainage pipe for rainwater runoff into the bay. Below the pipe was a 3-4′ deep hole lined with medium sized rocks to prevent erosion. Even at the lowest tide, a small amount of water would still remain within the hole. Peering down into the depths of the water, which was actually slightly murky due to the large amounts of rain recently, I couldn't spot any kind of micros swimming around. Nonetheless, I gave it a shot and began bouncing my bait along the bottoms of the rocks, focusing on any small cavities. Sure enough within a minute or two a micro came popping out from under a rock and quickly went after my bait. However, once it left the water the little guy quickly fell off and disappeared back among the rocks. So I tried again and within seconds it came right back out and took the bait, adding a Naked Goby to my life list.
Fishing the Inner Coastal Plain is similar to fishing any river or lake. The only difference would be the cypress swamps along rivers, creeks and ponds. Typically in the swampy areas of streams and other bodies of water there are usually plenty of Bluespotted Sunfish, Flier and Golden Shiners that will regularly take a chunk of worm on a Tanago hook either suspended in the water column with a micro float or just bounced up and down around vegetated areas. Pygmy Sunfish and Blackbanded Sunfish are also found within these same habitats, however I have yet to land one on hook and line.
Throughout both the Sandhills and the Inner Coastal Plain there are several species of shiners that are regularly caught. Such species as the Sandbar Shiner, Satinfin Shiner, Comely Shiner, Whitefin Shiner, and Coastal Shiner can all be caught at the same location along the Lower Little River. This river is a smaller, sandy-to-sandstone-bottomed river with the occasional riffle every now and then.
I usually encounter Sandbar Shiners most often when fishing the start of a deep sandy pool or the edges of a pool. Dropping a Tanago hook, baited with either a chunk of crayfish or worm and a size 6 or 8 micro shot placed 3" above the hook, upstream of the pool and allowing the current to carry the bait into the pool, while at the same time steering the bait along the sides of the pool, weeds out more of the Satinfin and Whitefin Shiners and allows me to better target the Sandbar Shiner.
To catch most of the other shiners, I'll either place my bait upstream of a pool and allow it to be carried downstream into the depths, rather than the sides, or I will find a riffle that is about a foot deep and allow my bait to be carried downstream with the current. Sometimes in clear, fairly deep creeks, you can spot large schools of Coastal Shiners swimming around. When you find a school, drop a worm in the middle of them and within inches of sinking below the surface a Coastal Shiner will have already taken the bait. They are one of the more common species in my area.
Below is a picture of a Satinfin Shiner.
The most common Darter species I usually encounter in the Inner Coastal Plain are Tessellated Darters. These guys are easily visible feet from shore on sandstone or gravel bottoms. Usually the most effective technique for catching these fish is sight fishing with a baited hook and large split shot, to battle the current, with either crayfish or a nymph as bait. In contrast, using a chunk of worm is usually slower action because they do not seem to be hungry for worm.
Occasionally, I have encountered Fantail Darters and in the Lower Little River there are even Piedmont Darters. Although I have seen the Piedmont Darters, they always seem to get off the hook before I can land them.
Chesapeake Fantail Darter / Etheostoma flabellare humerale
Lined Topminnows can be quite common in the shallows of heavily vegetated areas in the Sandhills and Inner Coastal Plain. These fish are easily caught by simply dropping a baited hook amongst the vegetation and moving it around near the surface.
At night, fishing with a flashlight in the well vegetated creeks can be effective for Eastern Mudminnows.
Sight fishing the Lower Little River at night near the edges of calmer riffles is also good for Pirate Perch.
Eastern Pirate Perch / Aphredoderus sayanus sayanus
Although I haven't done much micro fishing in the Piedmont region yet, I have done some micro fishing in the Appalachian Mountains of North Carolina, Tennessee, and Georgia. While Tenkara fly fishing the Tellico River just across the board from North Carolina in Tennessee, specifically in front of the Southern Appalachian Brook Trout Hatchery, I have caught Warpaint Shiners and a Yellowfin Shiner. I also caught an undescribed subspecies of the Rosyside Dace. Both were caught minutes apart on a size 20 brown colored nymph.
Below is the Warpaint Shiner which has very poor coloration in the fins and on its body.
Moving deeper and further south into Tennessee, I hit the Hiwassee River directly under the bridge of 411. Here the river was clear and shallow but teeming with darters and sculpins.
At first I attempted for shiners around the columns of the bridge, but couldn't even get a nibble. When I turned over stones near the shore, I spotted sculpin hiding out under the rocks. At first, I couldn't get them to take the bait dangled in front of their nose. I assume they were trying not to move because they were exposed and no longer hidden. But as time progressed, I began to see sculpin hiding not under stones, but next to them. And those sculpin had no issue consuming the bait.
Banded Sculpin / Cottus carolinae carolinae
Then I noticed all the darters that were around 2" long chasing one another from rock to rock. Pretty soon, I could point out between 5 to 10 darters in any given location. My eyes had adjusted to the stream bottom, much like they adjust to nighttime. The only challenge then was trying to place the bait in front of their nose before they chased after another darter. When I finally was lucky enough to get my bait in front of their nose, they would only show interest in it once. After their first bite, having nearly being hooked, they would lose all interest in the bait. Finally I spotted a male darter on top of a female darter in-between two rocks and I placed my bait right on top of them both. The male quickly went after the bait, I assume to remove it from their spawning grounds, and he was hooked. Adding a new lifer to my list, a Tennessee Snubnose Darter.
I attempted for another hour at landing more darters but couldn't get the hook set. I had no problem with the Banded Sculpins however and landed multiple fish within that hour.
Below is a pic of both a Banded Sculpin and a female darter just inches apart from each other. Can you spot them both?
The following day, I fished the Conasauga River in northern Georgia, arriving at the river minutes before the sun began to rise. Peering into the shallows and turning rocks I was quickly able to land a couple Coosa Banded Sculpins, a subspecies of the Banded Sculpin.
Coosa Banded Sculpin / Cottus carolinae zopherus
Continuing to fish, I began fishing blindly by casting my bait upstream and allowing it to drift downstream while occasionally tugging on the line to see if I might have a micro on. The Alabama, Tricolor, Coosa, Blue, and Silverstripe Shiners rarely let the bait pass all the way downstream without having a fishon.
Below is a large breeding male Alabama Shiner.
Leaving Georgia and heading back to Tennessee, I hit the Piney River before heading back to North Carolina. Here the the river was extremely clear and moving quickly. Within the first hour, I was able to catch Warpaint Shiners and a new lifer, a Whitetail Shiner.
I found a large deep hole and positioned myself in line with the end of it. Casting upstream into the center of the pool, my bait would sink to the bottom right as the pool was ending. It was here that the Warpaint Shiners and the Whitetail Shiners were lying in wait along the bottom and would dart up and grab my bait.
All in all, micro fishing the various geographical regions of North Carolina, including the mountains of Georgia and Tennessee, has been vital to my growth as an angler and my respect for the environment. Researching the various species of micros present in my own back yard, I have discovered that nature is full of diversity, beauty, and rarity. This is something I had once thought was only experienced by traveling to exotic, faraway, lands like the Amazon or Africa. However, nearly every time I go micro fishing in a new location, I learn something new and exciting that usually turns out to be beneficial later on down the road. For instance, my trip to the mountains of Georgia and Tennessee helped me to realize the importance of properly preparing before leaving home. Things like taking a map with you, or making sure you know exactly where you're going and how to get there can save you time and money, allowing for more fishing, because roads and streams in the mountains are not always marked with signs. I personally ended up lost in the woods for a good hour or two and ended up enjoying amazing views that I would not have experienced if I had not gotten lost. Also on this trip, I learned to make sure and find out where there is public access to a body of water before I leaving home. But if I had planned ahead, I wouldn't have been able to enjoy the beauty and excitement of micro fishing the waters of Georgia. So when life throws you obstacles, make the best of it and go micro fishing. There usually is always something biting. Sadly, sometimes it is only the mosquitoes.